Actress and author of, Beyond Survival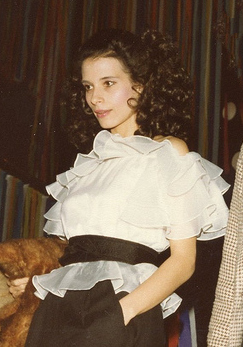 , Theresa Saldana has died at 61. Saldana's most famous roles include, Raging Bull(1980) in which she played Joe Pesci's wife. She was also in the 1990's television series, The Commish.While a wonderful and award winning actress, she gained most attention after a life changing event in 1982.
On March 15, she was attacked outside of her home. A man by the name of, Richard Jackson stabbed her ten times while a group of people stood and stared. A delivery man by the name of Jeff Fenn ran from the second floor of a nearby apartment building after hearing her scream, and fought the attacker. After hours of surgery and months in the hospital she came out of it a survivor.
Her attacker was inspired Robert John Bardo (stalker and murderer of actress, Rebecca Schaeffer) to use a private investigator to get Saldana's mother's phone number. He then pretended to be a Hollywood director to obtain her address. Saldana founded the Victims for Victims organization which fought for anti-stalking laws. Saldana's stabbing along with Schaeffer's death changed the way stalking was handled. Saldana portrayed herself in the 1984 movie about her attack and her recovery, Victims for Victims: The Theresa Saldana Story. In a LA Times article Saldana talked about choosing to play herself in the film saying, "I hope it stands as an example, not just to victims of crime but to others who have been through a tragedy, that you can get through almost anything."
Saldana's last film was in 2004.According to TMZ, she passed away at Cedar Sinai Hospital. On June 6th 2016, from an illness that has not yet been disclosed. Her movie (Victims for Victims)is available to watch on YouTube.