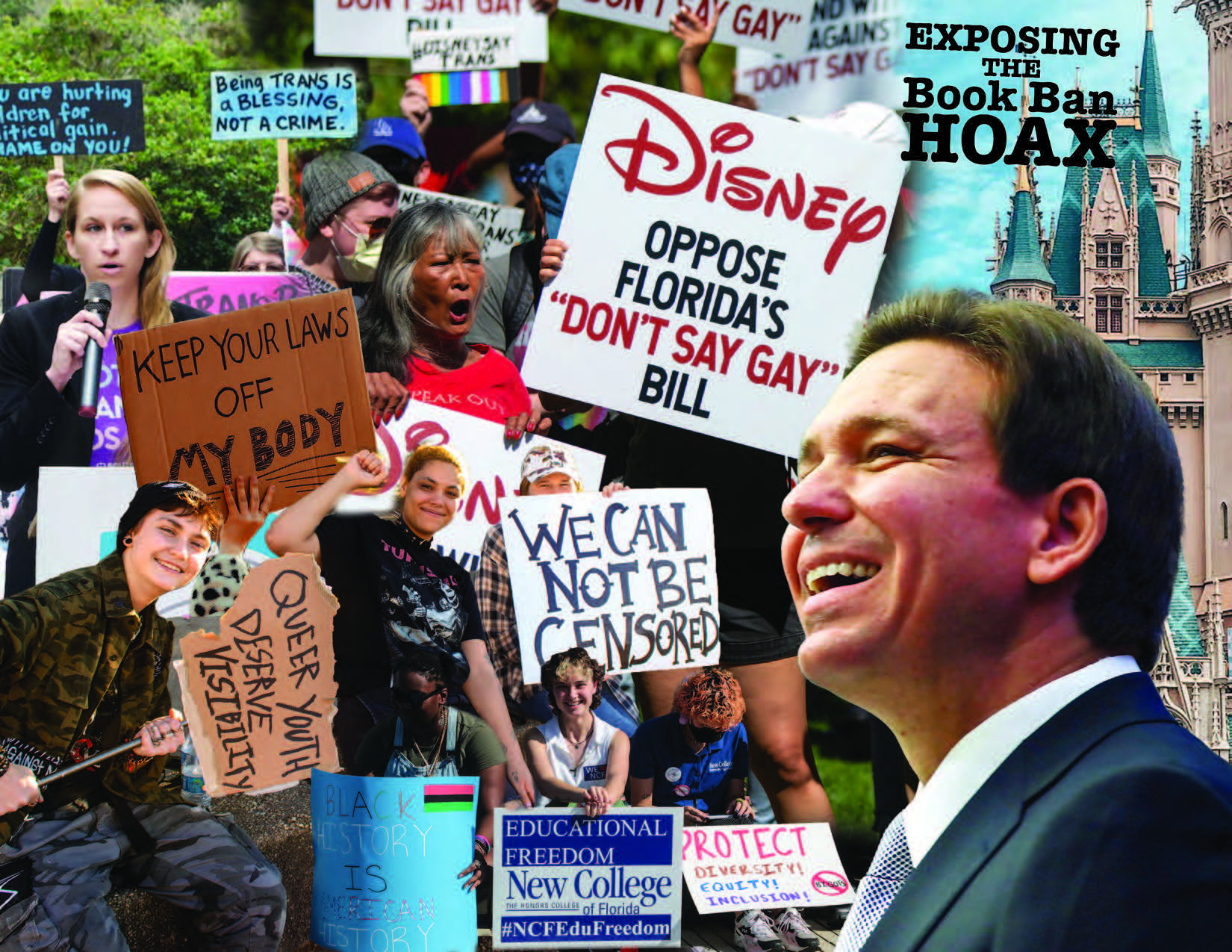 By Enrique Viveros
The race is on for the 2024 Presidential election candidates and the Florida Governor, Ron DeSantis. is gearing up for his "spot". During his State of State address, on March 7th, DeSantis said, "You ain't seen nothing yet." Based on this and recent headlines it looks like DeSantis is building his foundation by diminishing marginalized groups.
Within the past year Governor DeSantis has attacked the Walt Disney Company for using its First Amendment right to free speech, removed AP courses he found objectionable from Florida high schools, complained about wokeness, fired a majority of the board of trustees for New College in Sarasota, planned to eliminate DEI programs in college, ban books in K-12 schooling, targeted transgender health care, and is trying to reduce the time a woman can receive an abortion from fifteen weeks to six weeks. 
Early on in his candidacy in 2018, DeSantis stated, "First Amendment speech rights against those in academia, media and politics who seek to silence conservatives." That's His bellowing about free speech is hollow because he is working hard to strip First Amendment rights from the press and punished Disney for the use of free speech.  
For a politician to fight hard to preserve the freedom of speech, it is odd that Governor DeSantis wants to reduce the legal protections and safeguards against defamation lawsuits. During a roundtable discussion about defamation, a group of panelists, ranging from victims of media defamation to legal experts, brought up the landmark case of New York Times v. Sullivan; which limits the ability for public officials to sue for defamation on the basis of the First Amendment.
In February, Representative Alex Andrade proposed HB 991 and it would adjust the definition on how to make a defamation claim on a public figure; and Jason Brodeur, GOP lawmaker, introduced SB 1316 where it would require bloggers who critique Florida's government leaders to register to the state if the individual receives compensation within five days of posting and provide a monthly report. If not, the individual will be fined up to twenty-five hundred dollars per report. However, Governor DeSantis doesn't support SB 1316 even though media outlets placed his face in the article and attributed the bill to him.
Everyone has the constitutional right to the First Amendment; in addition, we, the free citizens who must question politicians, have the right to  have a conversation on an issue and debate. 
"Today, the corporate kingdom finally comes to an end," said DeSantis during a press conference, in February, where Walt Disney World's self-governing district was dissolved and five allies of the governor were appointed to be on the state board to oversee Disney. Because Disney opposed his "Don't Say Gay" law and spoke out on behalf of their employees, they must suffer the wrath of a vengeful man with power.  
CBS News said, "The new law changes the district's name from the Reedy Creek Improvement District to the Central Florida Tourism Oversight District and subjects it to various layers of state oversight. It leaves the district and its financial abilities and debt obligations intact, addressing a chief concern of surrounding governments." Which means the debt and taxes will be transferred to Florida and its citizens even though he stated it wouldn't.
DeSantis said, "Now we're, basically, Disney is going to be treated like SeaWorld is treated or like any of these others and that's really the fair thing to do." Disney lost its rights to self-govern, which has been in place since the 1960s, maintain Reedy Creek, and repay 700 million in debt and taxes simply because they disagreed with the governor's policy. 
Governor DeSantis has stated that Florida is where "woke" goes to die. However, when the Governor stated an idea is woke the public doesn't know what policies or issues the governor is referring to. During the Warren v. DeSantis trial, DeSantis's staff was asked to define what the governor means when referring to people as "woke". Ryan Newman, DeSantis's General Counsel, responded," To me, it means someone who believes that there are systemic injustices in the criminal justice system and on the basis they can decline to fully enforce and uphold the law. It would be the belief that there are systemic injustices in American society and the need to address them." 
Then Taryn Fenske, Communications Director, said it's a slang term for progressive activism. Now it is clear what the governor wants to accomplish this term.
On March 8, Governor DeSantis and Fenske posted an infographic and video presentation "debunking" myth about the book ban in K-12 schools, penalization of teachers, and the removal of AP African American Studies course materials.
Among the books showcased Flamer by Mike Curato, Gender Queer: A Memoir by Maia Kobabe, This Book is Gay by Juno Dawson, and Let's Talk About It by Erika Moen and Matthew Nolan are semi- autobiographical or non-fiction books about coming of age and self-discovery. These books are written for fourteen to seventeen-year-old middle or high school students.  During this time some of us go through puberty and a period of self-discovery; books on these topics help some understand their feelings and open the door to tougher conversations some might need to have with a parent.  DeSantis wants to ban a resource that may be vital to someone's ability to grow, learn, and educate themselves.   
And before someone says that isn't happening here, the Escambia County School Board banned three books this year: All Boys Aren't Blue by George Johnson, And Tango Makes Three  by Justin Richardson and Peter Parnell, and When Aiden Became a Brother by Kyle Lukoff.
Coinciding with the K-12 book bans higher education's DEI and CRT programs are under attack. 
HB 999/SB 266 states the probation of activities that promote diversity, equity, and inclusion, decide what courses of study college students could choose to pursue, prohibiting fields of study involving race and gender studies, and create new general education requirements prioritizing neoclassical education focused on Western European civilization.
In order to take control of New College, DeSantis appointed six new conservative members to the board of trustees.  The governor's goal is to transform the school into a conservative institution.  The governor's office claims he chose these trustees for their "firsthand understanding of the Florida education system" and their willingness to eliminate DEI programs to focus on traditional Western European civilization.  
While DeSantis destroys the liberal atmosphere the students and parents have created, Pensacola State has avoided the governor's wrath. PSC's Equity policy states, "Pensacola State College does not discriminate against any person on the basis of race, ethnicity, national origin, color, gender/sex, age, religion, marital status, pregnancy, disability, sexual orientation, gender identity, or genetic information in its educational programs, activities, or employment. For inquiries regarding Title IX and the College's nondiscrimination policies, contact the Executive Director, Institutional Equity and Student Conduct at (850) 484-1759, Pensacola State College, 1000 College Blvd., Pensacola, Florida 32504." 
On January 11th, Chris Spencer, Director of Policy and Budget for Governor DeSantis, sent a memo memorandum to the chairs of all State University Board of Trustees in regard to gender dysphoria services being provided to students who need it. He wanted the universities to answer the questions, send them student health data who are suffering from gender dysphoria, and sent back by February 10th.
On March 3rd Florida attorneys wrote in the letter to criticize DeSantis about the data collection. "This information request may be intended to intimidate, and will actually intimidate, university administrators and health care providers and chill vulnerable students … from accessing necessary medical care. Public reports suggest that you may seek to use the information sought to eliminate funding for necessary gender-affirming health care for students. Such actions jeopardize the health, safety and well-being of young people and their families, contravene well-accepted medical standards, unduly insert the state into the provider-patient relationship, violate students' rights under federal law—including privacy—and offend basic human rights." 
From collecting information on students who seek gender-affirming care on college campuses to banning gender dysphoria treatment to requiring employees to de-transition for work to introducing bills like SB254 where it would grant official authorities, modify out-of-state custody agreements Florida is not looking its brightest. 
Former PSC student, Sebastian Gordon stated," These bills are creating a toxic stigma around the transgender community by promoting uneducated opinions as the norm for the United States understanding of the transgender community. By passing these harmful bills and limiting access to gender-affirming health care- Florida is creating an unsafe environment and attitude towards the transgender community."
Lastly, on March 7th SB300 was introduced. This bill would ban abortions at six weeks of pregnancy;  however the bill also states that it exempts the abortion up to fifteen weeks in the cases of incest or rape, but a restraining order, police report, medical record or other court order documentation. 
While Governor DeSantis has not announced that he is running for president in 2024 Liv Johnson, WESH reporter, said, "Governor DeSantis has said, in the past, that he would make a decision on his 2024 plans once the legislative session ends in May."
DeSantis said, "When you stand for the right things, they are going to come after you and that's just the price you have to pay to be able to save this country. I'm just happy that a lot of people in Florida have been willing to stand up and fight because freedom is worth fighting for." 
Yes, Governor! Freedom is worth fighting for. We must fight to protect the First Amendment, women, K-12 students, college students, teachers, LGBTQ+ youth, Florida citizens, and other marginalized groups.